Superfood Blends 150 Gr Super 8 Beauty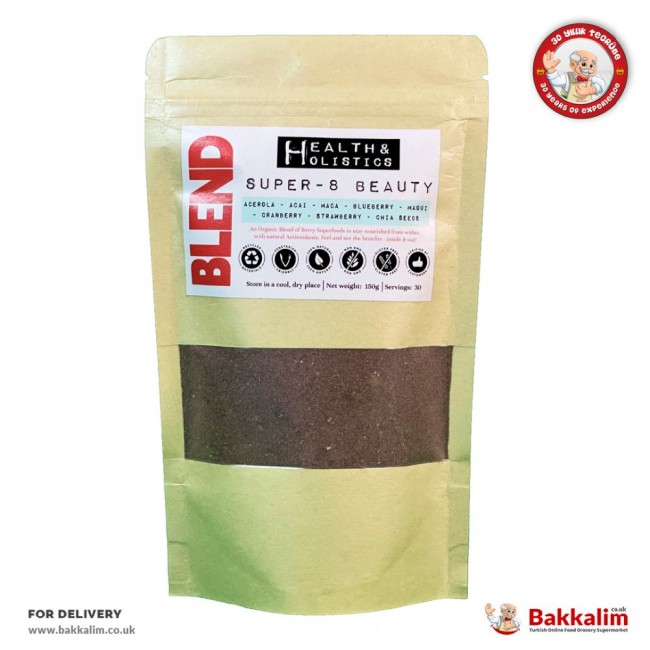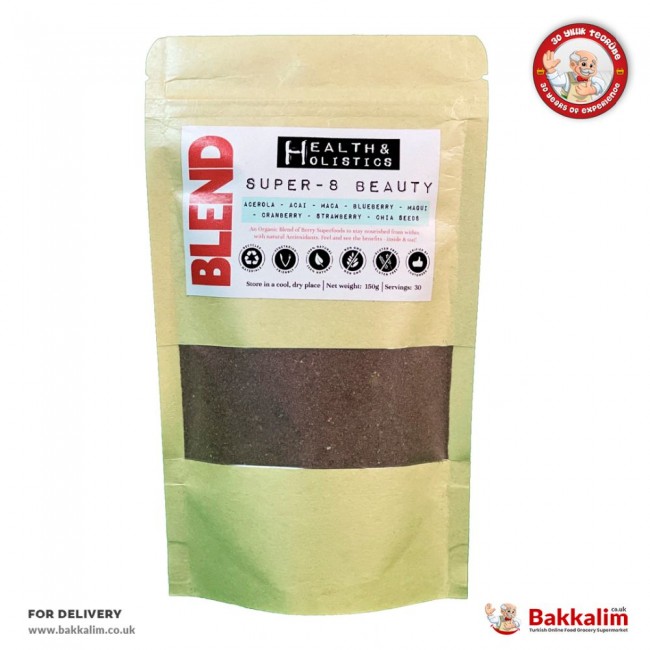 Superfood Blends 150 Gr Super 8 Beauty
Superfood Blends 150 Gr Super 8 Beauty
An Organic Blend of Berry Superfoods to stay nourished from within
with natural Antioxidants. Feel and see the benefits - inside & out!
Nature's known beauty enhancing superfoods including Organic Açai Berry, Acerola, Blueberry, Cranberry, Maqui Berry and Strawberry with Chia Seeds + Maca Root.
Ingredients:
12.5% Acai Berry
12.5% Acerola
12.5% Blueberry
12.5% Cranberry
12.5% Maqui Berry
12.5% Strawberry
12.5% Chia Seeds
12.5% Maca Root
A delicious Source of Vitamin C + Zinc for healthier skin. This supplement is an overall powerhouse and is perfect for anyone who is trying to revive their skin and maintain a natural glow! Boasting 8 Superfoods including Berries & Roots, this Blend is versatile and can be added to Juices, Smoothies, Porridge, Smoothie bowls, or just simply added to water!
One month supply/150g/powder
100%raw/organic/pure/natural
Repair/revive/rejuvenate
Can be mixed with H&H Sea Moss Gels
Complete Antioxidant and rejuivanting
Why Acai?
Acai oil is absorbed into the skin rapidly & effectively, making Acai an effective skin calming extract. Also beneficial to treat acne, because of it's anti-inflammatory and anti-microbial properties which both soothe and prevent blemishes.
Rich in omega-3, omega-6, and omega-9 fatty acids, Acai helps skin appear youthful and supple, and the fatty acids revive the look of dry, dull skin. If you're getting enough, your skin looks smooth and soft. If you're not, skin dries out, sags, and becomes dull.
Why Acerola?
Acerola Cherry extract is an incredibly potent antioxidant that helps your skin fight against environmental aggressors whilst reducing any inflammation.
As cherries are naturally hydrating the fruity ingredient will particularly beneficial to those with dry skin, although suitable for all skin types.
With a high vitamin C content, Acerola cherry also eliminates free radicals and boosts collagen production for younger-looking skin that retains firmness and elasticity. Also said to enhance capillary strength which aids in skin repair.
Why Blueberry?
Blueberries are high in anthocyanin, which may support in natural collagen synthesis. In a few skin sample studies, applying anthocyanin from berries to the skin reduced collagen breakdown and increased overall collagen production.
Why Cranberry?
Cranberries are rich in vitamin C that help in boosting our collagen production that is known to improve the elasticity of the skin. Collagen production helps to carry the oxygen and nutrients to the skin that makes our skin soft, glowing and firm.
Its high acid content aids in collagen production which in turn makes the skin look soft, radiant and glowing. Cranberry juice also has anti-ageing properties and consuming it on a daily basis can prevent the occurrence of wrinkles on the skin, thus making your face and skin look fresh and youthful.
Why Maqui Berry?
Maqui, also known as Chilean wineberry, is a richly-colored berry that contains a potent type of antioxidant anthocyanidin known as delphinidins, which can help skin better withstand the rigors of UV light exposure
Maqui berry's amazing antioxidant value is in its anti-ageing properties. The antioxidants help to slow down signs of ageing by warding off free radicals in the body. Maqui berry also has an incredible ability to nourish and care for the skin cells – resulting in glowing, youthful, healthy skin.
Why Strawberry?
Strawberries contain alpha hydroxy acids, which help to eliminate dead skin cells and cleanse the skin. ... The vitamin C in strawberries can also contribute to keeping skin healthy and vibrant, working as a toner to soothe irritated skin.
Strawberries are rich in salicylic acid which helps keep your skin clean and fresh. It's not for nothing that most face washes have strawberry as their main ingredient. They nip acne in the bud and stop the ugly bumps from imploding all over your face.
If applied to the skin directly, the acidic nature of the strawberry would remove the excess oil on the skin, which is a known common source of acne and breakouts.
Why Chia Seeds?
Chia seed oil is rich in the omega-3 fatty acid ALA and omega-6 fatty acid linoleic acid. These two healthy fats have been shown to help restore the skin's moisture barrier, especially in those with dry skin conditions, such as atopic dermatitis and psoriasis ( 9 , 10 , 11 , 12 ).
Also rich in nutrients like vitamin A, vitamin C, iron and potassium, regular consumption of chia seeds can help boost skin luminosity and elasticity, making it glow from the inside out.
Why Maca Root?
Maca helps to reduce the effects of ageing, and gives new strength to the skin. The vitality secret of the Inca, maca (Lepidium meyenii) is a treasure from the Peruvian Andes that promotes energy and endurance. Featured in worldwide media, this herbaceous plant is gaining popularity for its superior benefits to skin.
As for medicinal properties, Maca root acts as an adaptogen to reduce stress and adrenal fatigue. It helps establish endocrine balance and regulate the hormones that trigger acne breakouts
Serving Advice:
1 teaspoon (4-6g) per serving, 30 servings per pack (1month supply)
Stir 1 heaped tsp (5g) of Green Powder into a cold or hot drink, add to smoothies or stir into food & consume at least once daily. We recommend a maximum of 1-2 (5-10g) servings in one day. Due to the natural vitamin & mineral content do not exceed the maximum dose. Nutrition is all about quality, not quantity!
Suggested Care:
Do not exceed stated dosage. If you have any medical conditions, consult your doctor prior to taking. Store out of reach of children. This product is a supplement to a healthy diet & not intended to replace meals. *This product does not claim to diagnose, treat or cure any disease.
Sales Piece 0
Product Views 225